[div class="three columns"]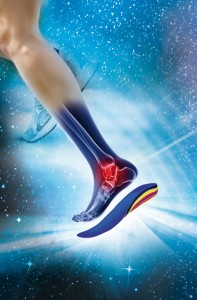 [end-div]
[div class="nine columns"]
We are very excited to announce our partnership with Tamir Kfir, world-leading orthotist and prosthetist with twenty years of experience in the field of orthopedics. Tamir is the developer of Dynamic Motion Control™, a unique technique for making customized orthotics for all level-athletes including runners, cyclists, tennis, baseball, soccer, football, and basketball players. The orthotics are built specifically to each individual's physical data, needs, daily and sport activities by utilizing state-of-the-art technology including a 3D scanner and video analysis.
Most people's feet are not perfectly aligned with one another and have structural or functional imperfections. Orthotics correct the biomechanics of the foot, which supports optimal landing and propulsion, better posture, and improved balance. Orthotics are also effective shock-absorbers, acting to reduce pain throughout the body (feet, knees, and back) for increased comfort and performance as well as minimizing the potential for injury.
Some notable clients of Tamir Kfir include tennis player Novak Djokovic, Brazil's National Soccer team and NBA players Dirk Nowitzki, Tony Parker, Omri Caspi and DeMar DeRozan, among others.
Call us today to make an appointment at (314) 646-8880. To learn more about Tamir Kfir please visit: www.tamirkfir.com
[end-div]